This section contains a model project plan divided into four phases:
An overview of the project can be seen in the attached Gantt chart. This should be used for planning your project.
The Gantt has two of hidden columns which you will not need until you start project delivery: project tracking and links to project delivery resources.
This section also provides details of the core Change Minds Hub services provided to your project and additional services which can be included if required.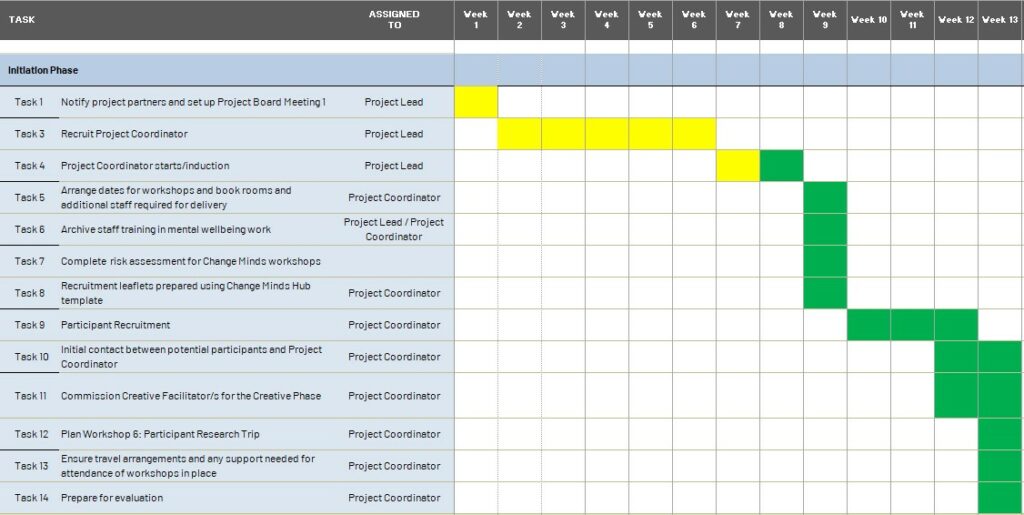 Initiation Phase
Once the project achieves the go ahead; for example, after notification of a successful funding application, the project enters the Initiation Phase. During this phase:
The Project Coordinator is appointed
A leaflet advertising Change Minds to potential participants in produced
Participants are recruited and rerolled
Arrangements are made for the Research Trip in Workshop 6
Arrangements are made for Creative Consultants to deliver Workshops 7 and 9
Casebooks are digitized and a selection of cases is made
Evaluation materials and prepared
A room is booked for each of the workshops. The 12 Workshops form the milestones around which the middle two phases operate. They should be regular (weekly or fortnightly) , at the same time, on the same day of the week and in the same place.
Archive staff are introduced to the project and the Wellbeing training materials
Preparations are made for the delivery of Workshop 1
Project Board Meeting 1 takes place at the start of the Initiation Phase and Project Board meeting at the end.
Research Phase
The first six workshops are delivered the Research Phase and the Project Evaluation is started.
Workshop 1: Introduction to Change Minds
Workshop 2: Reading Archives and Choosing a Research Subject
Workshop 3: Handling Documents and Beginning Research
Workshop 4: Research
Workshop 5: Further Research
Workshop 6: Participant Research Trip
Creative Phase
The final six workshops are delivered during the Creative Phase. At the last workshop the second stage of the evaluation is completed.
Workshop 7: Creative Workshop
Workshop 8: Creative Workshop Continuation
Workshop 9: Creative Workshop
Workshop 10: Creative Workshop Continuation
Workshop 11: Final Showcase Preparation
Workshop 12: Final Showcase
Project Close Phase
This short Phase at the end of the Change Minds project. It covers:
End of Project Report
Final Project Board meeting
Finalisation of evaluation documentation
Application of project Retention Schedule
Change Minds Hub Services
The Change Minds Hub can:
Provide support as you set up your project and apply for funding.
When you are delivering your project, the Hub will provide:
A day of training for staff delivering your project
Password access to the online resources for running your project. This payment helps maintain and develop the Hub site.
Analysis of your evaluation data, combining it with the growing corpus of Change Mind Evaluation Data
A representative at each Project Board Meeting
Support and advice
In addition to these core project services, the Hub can also provide:
Support for recruitment of project staff
Wellbeing supervision to project staff
Petty cash arrangements for refunding participants out of pocket expenses